Think You May Need Bathtub Refinishing?
Learn What It's All About!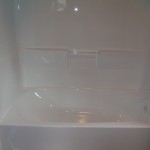 A new bathtub can put you back thousands of dollars, but sometimes you really do need to add a bit of shine to the bathroom. But if your bathtub is lacking in luster, there is another choice. You don't have to deal with an old bathtub that's discolored, hard to clean, or even damaged. Bathtub refinishing can make your old porcelain look brand new.

So what is bathtub refinishing? Well, when most people think about refinishing, they think about tables. If you strip the finish off your old coffee table and reseal it, the table looks almost brand new! The same principle applies with porcelain.

The first part of refinishing a bathtub is stripping not the old finish, but all the residue that's built up on your bathtub over the years. Over time, no matter how well you clean, body oil, soap scum, and other deposits build up on your tub. After the tub is properly stripped, the next step is to make sure that all chips and cracks are repairs, getting your bathtub in top shape.

 Next is when the actual "refinishing" happens. First, a bonding agent is applied to the tub, to make sure that the new finish sticks. Then, a durable acrylic coating is applied to the bathtub with a fine-finish spray process. The result is a bathtub that looks so new most people can't tell the difference. And the kicker is, it's usually only a quarter of the price of a new bathtub.

There is some curing time with the process, so your tub will be out of commission for about three days after the process, but that's far less time than waiting for a new bathtub to be installed. So, if your bathroom is needing a little bit of a makeover, consider doing a bathtub refinishing, rather than spending thousands of dollars on a new one!
Contact Us for more information about bathtub refinishing, we're Amazing Reglazing serving all of Rhode Island, Connecticut and Massachusetts.
Share