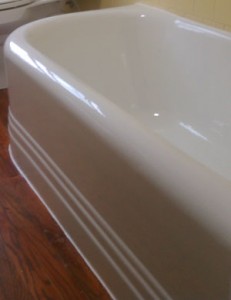 Replacing a bathtub is very labor intensive and can be very expensive. You must first have the existing tub removed and then disposed of. Then the plumbing must be checked and prepared for the new tub installation. A new foundation must be constructed to ensure a proper fit of the new Tub. After the new tub is installed surrounding tiles around the perimeter of the tub that were destroyed during demolition must be replaced. When you factor all of this in you are looking at around 2,000 to 3,500 in labor and materials give or take.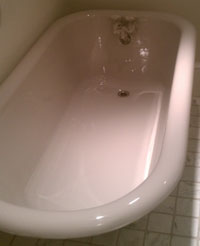 Even if you go with the cheapest possible bathtub that you get at home depot or Lowes, you still are going to be paying much more as apposed to refinishing. With all this considered wouldn't it make sense to hire a professional refinisher?
Refinishing a bathtub is completed in a few hours and can be used the next. When you have us refinish your tub most people will not be able to tell the difference between a new bathtub and your refinished one. Our finish will last 10-20 years if properly maintained. After that time you can have the tub refinished again and you will still be saving money from replacement costs.