Think You May Need Bathtub Refinishing?
Learn What It's All About!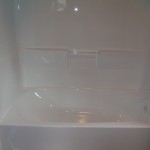 A new bathtub can put you back thousands of dollars, but sometimes you really do need to add a bit of shine to the bathroom. But if your bathtub is lacking in luster, there is another choice. You don't have to deal with an old bathtub that's discolored, hard to clean, or even damaged. Bathtub refinishing can make your old porcelain ...
Continue Reading →
Share